Read all about us and get to know Kaffe the brand and the why and how behind it.
WHAT WE DO
We take coffee very seriously here at Kaffe. In fact, our love for coffee is really what gets us out of bed each morning. This is why we design and manufacture premium coffee accessories, such as coffee grinders, milk frothers, and cold brew coffee makers, to make sure you elevate your coffee routine with us and experience coffee the way we believe it should be.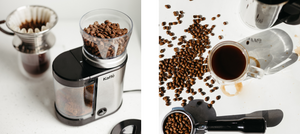 HOW WE DO IT
We like to keep things simple with beautiful, functional design that eliminates the need for disposable filters, pods, and other fussy bits of paper or plastic. We believe in making life easy for you, and giving you the tools to make your own coffee shop-like coffee in just a few steps is one way of doing this. Our quality-promise is another way of making things easy, because our tempered glass and stainless steel components are durable, solid and hard-working.
WHO WE'RE DOING IT FOR - YOU
Hear the cascade of whole beans plunking into the hopper. You close the lid, press the button: whizzzz … your grind is ready. Click open the grinder, close your eyes, inhale the glorious aroma of fresh coffee. The kettle hums, bubbling and prattling to a boil, and the next thing you know, you've poured your coffee, watching the steam swirl up to your face to caress your senses. Sounds perfect, right? With us, you can experience this feeling every day.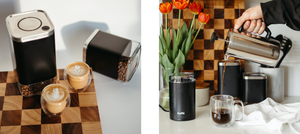 WHO'S BEHIND IT ALL?
Our founder and CEO, Robert Gomez was so passionate about coffee that he was always experimenting at home to create the perfect, barista-style coffee. After many trials and mediocre drinks, he realized he just didn't have the right tools for it. He started Kaffe in 2016 so that no-one would face the same problem he did. 
His vision was a company that manufactured premium products at affordable prices that let you have the perfect coffee experience at the fraction of the cost of a coffee-shop beverage. And so Kaffe was born, with an ever expanding palette of appliances and accessories to elevate your coffee routine on the daily.

By now, Kaffe products are not only available on Amazon but nationwide too, at major retailers like Walmart and Target, and maybe even at your local coffee shop. 
See where you can find us.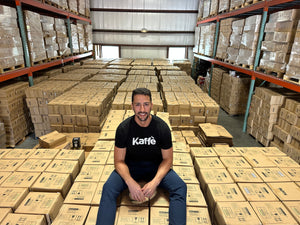 Get to know Robert and us a bit more…
YAHOO! FINANCE
"Kaffe products seek to both simplify and elevate the routine of making and enjoying a freshly brewed cup of coffee. Their designs are affordable and user-friendly, often ranking among the top products in the Home & Kitchen category on Amazon. They don't require extensive knowledge in order to go from whole beans to an aromatic, delicious cup."
Read more
BUSINESS INSIDER
"I launched Kaffe with a single product: a coffee grinder that came in only one color. I spent day and night thinking about the best way to position the coffee grinder so it would get to the top of Amazon's rankings. Since I had already worked on my other brand for several years at this point, I had some experience with the Amazon platform."
Read more
Want to achieve such great things with us? We would love to have you on our team! Join us fellow coffee lovers.
WHY CHOOSE KAFFE?
Two Words - flavor & aroma! Coffee's real flavor comes from the oils in roasted beans, and those oils need to be released evenly for the best-tasting coffee. So you want to extract the flavor from the beans as effectively as possible, and that means starting with the best coffee maker you can find. If you're a coffee connoisseur like us, you've probably invested heavily in your coffee grounds, so do not overlook the importance of the grinder, and its role in producing the final coffee you'll be sipping!
Let's Create the Perfect Coffee Experience Together!
GOT ANY QUESTIONS FOR US?
Get in touch, we love making friends!